Sport Scope's EDGE Instant Replay has been a proven tool used by football coaches since 2016, allowing coaches to replay and review recorded plays on their press box or sideline iPads in 2-3 seconds after each play. With the iOS App and EDGE Software that is packed full of useful features to help teams gain a real-time competitive edge over the competition, that means more plays and more aggressive play-calling with real-time feedback for your staff and players.
EDGE Replay software offers easy and predictive play tagging technology, enabling the user to quickly tag each play with down & distance, hash, YL, play type, play result, net yards, and more. Tagging is also predictive, which means it automatically keeps track of the down, distance, yard line, hash, score time of possession, and many other measurements. The software predicts the most likely play result for each scenario, saving the tagger time and allowing them to focus on the game while providing feedback to their play-calling staff.
Every video clip recording is automatically saved on the EDGE Recorder and your iPad. Thus, each play can easily be accessed and uploaded to Qwikcut or Hudl following the game. Your tagged plays by ODK, down & distance, hash, YL, etc. can easily be imported with Hudl once your video clips are uploaded.
---
TABLE OF CONTENTS
---
EDGE Replay Customer Testimonial:
"Edge replay was crucial to our success and allowing us to get to the State Championship. The past few years we had so many issues with the other system we were using, and we didn't get support or information until we got back to the fieldhouse. This year with Edge Replay we got answers immediately and was able to make much-needed adjustments to give our boys a better chance to succeed."
Kevin Motsinger, Coach at Wallace-Rose Hill High School (North Carolina) 2021 North Carolina High School Activities Association 2A state runner-up Owner of the Sport Scope 30' Smart Endzone Camera & 2-View Edge Replay System
For additional testimonials from EDGE Replay users, click here.
---
EDGE REPLAY SOFTWARE & HARDWARE FEATURES HELP YOU WIN MORE GAMES, PERIOD.
The Sport Scope iOS App for EDGE Replay is designed to be very organized and visual to help coaches and athletes review desired plays quickly, whether it be on the sideline, in the press box, in the locker room, at halftime, or on the bus ride home following the game.
Full playback control with slow motion, fast forward & rewind – Using the speed control meter at the top of the app, you can review clips in both in play and paused modes for simple control. The custom controls of the EDGE App allow forward and rewind with ergonomically positioned thumb buttons over the video player or the play can be scrubbed back and forth using the progress bar feature. Additionally, the play number is positioned in the top left-hand corner so you can quickly see exactly which play you're viewing.


Visual, color-coded drives by ODK with the ability to draw on the video – The EDGE App is designed to be very visual to help coaches find the plays they want to review, fast. Draw over the video to visually show your players needed adjustments. You can draw with three colors: blue, red, yellow and can erase the drawings with the undo button.
Easy & predictive play tagging – Quickly tag each play with down, distance, hash, YL, play type, play result, net yards, and more. EDGE tagging is also predictive, keeping track of the down, distance, YL, hash, score, time of possession, and more. It also predicts the most likely play results for every scenario. The play tagging is so quick and easy that it will become part of your standard workflow, which allows for features such as live game stats and opponent tendencies.


Multiple synced camera angles – Connect as many EDGE Recorders to the EDGE network as you want. Each box will automatically connect and sync with the others on the network. Press the record button in the EDGE iPad App and all the boxes will record and stop at the same time. Each angle will then download onto every iPad that is connected to the network.


Picture-in-picture (PIP) angle switching – Switch between angles by using the PIP screen in the bottom right corner of the video player. The playback of each angle will stay synced as you switch between angles.


Smart features for game stats, opponent tendencies & quick sorting by tags – Edge App smart features save coaches' time while allowing them to find and exploit their opponent's weaknesses. Quickly sort through clips based on tagged information while tailoring the EDGE App to your coaching position and style. Offensive, defensive, and special team coaches are filter plays and eliminate clutter, so they are watching the exact plays they need. Coaches can also save certain plays to their iPad and bring them into the locker room to show their players during halftime. This can be done without being connected to the wireless network because the plays are saved to the device.


Compact, portable, and weather-resistant – The 4" x 2.5" x 1.5" and 6 oz. EDGE recorder is the most compact replay box on the market. The recorder replaces the laptop and capture device that other replay systems use. Every component of the EDGE Replay system is pre-installed into small carrying cases with instructions on the inside. This gives you easy plug-and-play access, protection from the weather, easy travel, and superior organization.


Powerful, reliable, and simple – EDGE Sideline Replay includes all the networking hardware you need to create a private, closed, and powerful Wi-Fi network. Each iPad will connect to the EDGE Network and be able to download every play from the wireless router and antenna. Also, you will never need data packages or the internet to run the EDGE Replay system, it would work in the middle of nowhere.


No laptops needed & battery powered – The EDGE Recording Box eliminates the need for costly laptops and capture cards while the EDGE Battery frees you from looking for power outlets in the endzone or sidelines while at home or on the road. We do, however, recommend using a power outlet in the press box for your router and antenna; this will ensure a stronger wireless network. Other replay systems may need power outlets in the press box as well as in the endzone and/or on the sidelines for their system to work.


Upload video and ODK directly into Qwikcut, Hudl, or file share – After the game is finished and you have an internet connection, upload your video clips and ODK from each angle to your file share of choice. Since EDGE Replay syncs all angles, your intercut will be extremely easy. You can download your video and ODK files to the iPad and then drag and drop straight from the tablet. Or, use iTunes to transfer your video and ODK files from the iPad to your computer.
To learn more about the EDGE Replay system including pricing, visit the informational page on the Sport Scope website by clicking here.
---
THE SPORT SCOPE 3-POINT NETWORK
Our 3-point network utilizes the most advanced wireless antennas on the market. The network creates a strong connection between your endzone, sideline, and press box to keep your iPads connected for lightning-fast downloads no matter where they are located on the field.
It only takes four easy steps to utilize EDGE Replay:
Easily connect your endzone camera to the powerful wireless network.
Control your endzone camera from the press box or sideline with your iPad.
The controlling iPad can also send instant replays to all your iPads in seconds.
Upload your video clips and ODK from each angle seamlessly to Qwikcut, Hudl, or your file share of choice after the game.
---
FAST & EASY SETUP, WITH TECH SUPPORT THAT YOU CAN RELY ON
Coaches should be able to focus on what matters most: the game and their players. At Sport Scope, we provide reliable and comprehensive coaching software and hardware solutions to allow you to do just that. EDGE Replay is easy to operate and set up with pre-mounted hardware cases, ready-to-go travel bags, and any technical support you may need leading up to your season or on game nights.
On game nights, you can be assured that our team is on the clock and available to support your staff. With a dedicated Tech Support Team ready to receive your calls, texts, or emails we are prepared to train your staff before the season and take care of any game night help you may require. Our comprehensive user guides, online tools, and video library will ensure you can operate your system flawlessly when it matters most but in the event you need additional support, our team is standing by.
Contact Sport Scope Tech Support - Call/Text 509-204-3270 or Email support@sportscope.com
To visit our online Tech Support Center with instructional materials and FAQs, click here.
---
COMPARE THE CURRENT INSTANT REPLAY SYSTEMS ON THE MARKET
EDGE Replay offers a comprehensive solution with the ability to tie into your existing endzone camera system or add to your existing Sport Scope Endzone Camera. In addition to offering the most robust features of any instant replay system on the market, your program will save money over time following your initial first-year investment as your costs in your second year and beyond will be reduced to only a $499 annual license fee. Compare that to other systems that duplicate their fees year over year, and you're talking significant savings to your program over the lifespan of your system.
The EDGE Recorder is the most compact and powerful replay system on the market, measuring 4" x 2.5" x 1.5" and weighs a total of 6 OZ, yet includes all of the networking hardware needed to form a private, powerful Wi-Fi network. In other words, the EDGE Recorder replaces the need for a laptop, capture device, and internet, saving you time and thousands of dollars on expensive equipment. With the included high-tech router and antenna, each iPad simply connects to the EDGE Network and is able to download each recorded clip wirelessly in seconds.
NOTE: The comparison table and website of Instant Replay systems is based on information gathered from competitors' websites and/or from coaching clinics and convention research. Comparison based on systems using real cameras, not iOS device cameras.
To view the full table on our Instant Replay Comparison Page featuring expanded details on current market systems, click here.
---
EDGE Replay Customer Testimonial: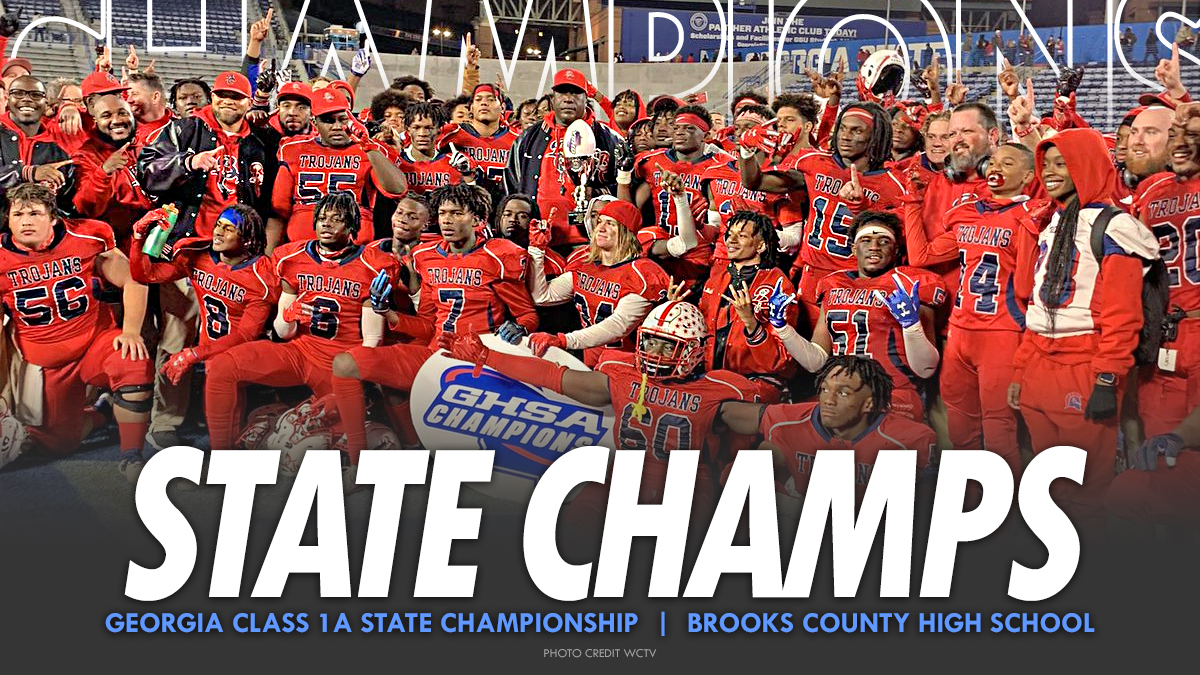 CONGRATULATIONS TO OUR FRIENDS AT BROOKS COUNTY HIGH SCHOOL ON THEIR 2021 GEORGIA HIGH SCHOOL ASSOCIATION 1A PUBLIC STATE CHAMPIONSHIP
"This was our 2nd year with the Smart Camera system and our first year using EDGE Replay. I highly recommend this system. We played for the state championship twice previously at Center Parc Credit Union Stadium (Georgia State University) where our previous replay system did not work. This year EDGE Replay worked flawlessly and made a huge difference, helping us to bring home our first State Championship in 27 years.

Beyond the system itself, the Sport Scope tech support is top-notch. They were extremely patient with me through our learning curve of a new system. Their support staff response time is extremely quick.

We are a small school and have 3 students who set up and run the system. They really like the iPad control ease of use. The download and upload process into our Hudl account is easy and quick. The EDGE Replay system worked great, and I am so glad we made the move."
Kyle Wilson, Offensive Coordinator at Brooks County High School (Quitman, GA)
2021 Georgia 1A Public State Champions
Owner of the Sport Scope 30' Smart Endzone Camera & 2-ViewEdge Replay System
For additional testimonials from EDGE Replay users, click here.
---
BOOK A DEMO WITH SPORT SCOPE
See for yourself. Click here to download our EDGE Replay app from the App Store or click the link below to sign up to be contacted by your Sport Scope sales representative.
Posted on February 2, 2022
---